In a significant blow to Bud Light's sales, the beer brand has witnessed its most substantial weekly drop to date following its ill-fated collaboration with transgender social media influencer Dylan Mulvaney. Recent data reveals that sales of Bud Light plummeted by an astounding 28.5% compared to the same period last year. These figures, released by Bump Williams Consulting and NielsenIQ, highlight a stark increase in the decline rate when compared to the preceding weeks.
Bud Light's Sales Downturn Continues
Bud Light's Sales Drop: A Deeper Dive
In the week ending June 17, Bud Light experienced a remarkable decline in sales, surpassing the previous week's drop of 26.8% and the week prior's decrease of 24.4%. This significant downturn in sales is concerning for Anheuser-Busch, the parent company of Bud Light.
Anheuser-Busch's Sister Brands Affected
The negative impact on Bud Light's sales was not limited to the brand alone. Other renowned brands under the Anheuser-Busch umbrella, including Budweiser and Michelob Ultra, also suffered from diminishing sales during the seven-day period ending June 17.
Budweiser: Sales of Budweiser recorded a substantial decline of 12.3%. This downward trend indicates that Budweiser, a long-established brand, is also grappling with the fallout from Bud Light's controversial partnership.
Michelob Ultra: Similarly, Michelob Ultra witnessed a decline of 4%, further adding to the concerns faced by Anheuser-Busch.
Anheuser-Busch Faces Consumer Backlash Following Mulvaney's Promotion of Bud Light
In early April, Anheuser-Busch found itself at the center of a significant backlash from beer drinkers after social media influencer Dylan Mulvaney endorsed Bud Light in his online posts. Unfortunately, the brewery's attempts to rectify the situation through new advertising campaigns seem to have fallen short in the eyes of some consumers.
Recently, Marcel Marcondes, Anheuser-Busch's top marketing officer, was honored with the prestigious "creative marketer of the year" award at the Cannes Lions festival, often referred to as the "Oscars for the advertising industry." However, this accolade may not be sufficient to alleviate the negative sentiment surrounding Bud Light's association with Mulvaney.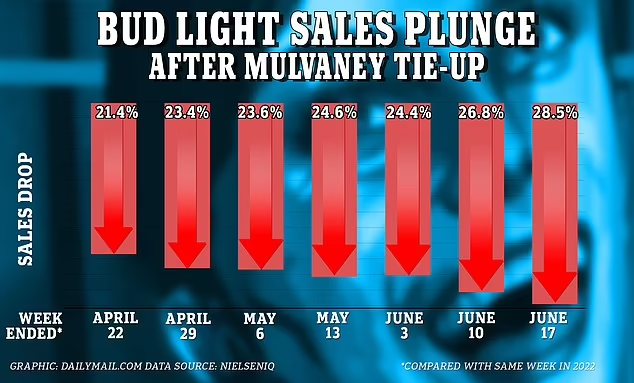 The criticism and discontent expressed by beer drinkers serve as a stark reminder that brands must be vigilant when selecting influencers for promotional purposes. While Anheuser-Busch's marketing team may have believed that partnering with Mulvaney would enhance Bud Light's appeal, the outcome has proven to be quite the opposite.
Moving forward, it is essential for Anheuser-Busch to reassess its marketing strategies and listen to consumer feedback. By actively engaging with their target audience and taking genuine steps to address concerns, the brewery can rebuild consumer trust and restore Bud Light's reputation as a beloved and respected beer brand.
In conclusion, Anheuser-Busch's partnership with Dylan Mulvaney has resulted in a significant consumer backlash, highlighting the need for brands to carefully consider the impact of their influencer collaborations. Despite receiving recognition for their marketing efforts, Anheuser-Busch must acknowledge and address the concerns raised by beer drinkers to regain their loyalty and restore Bud Light's positive image in the marketplace.
The Aftermath and Future Prospects
The significant decrease in sales for Bud Light raises questions about the effectiveness of the partnership with Dylan Mulvaney and the impact it has had on the brand's image and consumer perception. The adverse sales figures suggest that consumers might be expressing their discontent by shifting their preferences towards other alternatives.
To mitigate the ongoing decline and regain consumer trust, Anheuser-Busch needs to reevaluate its marketing strategies, reassess its target audience, and take prompt action to rectify the damage caused by the ill-received collaboration. This requires a comprehensive approach to restore Bud Light's reputation as a leading and reliable beer brand in the market.
Bud Light's recent partnership with transgender social media influencer Dylan Mulvaney has resulted in a significant downturn in sales. With sales dropping by a staggering 28.5% compared to the previous year, Bud Light faces a critical juncture in its brand's trajectory. The repercussions extend beyond Bud Light alone, impacting sister brands like Budweiser and Michelob Ultra.
Anheuser-Busch must swiftly adapt its marketing strategies to recover from this setback and regain consumer confidence. Only by doing so can Bud Light and its affiliated brands regain their positions in the competitive beer market.
You may also like,