Mexico is a country with a long tradition of both brewing and drinking beer, and if you visit, there are a lot of good ones to look out for. Here're 10+ Best Mexican Beer
Many of the most popular beers in Mexico are simple, mass-produced lagers, but while the craft brewing scene isn't as well established there as north of the border, there are also some notable exceptions that will please even the most demanding connoisseurs.
This means what you'll drink there will probably include a mix of unassuming yet satisfying brews that are perfect for quenching a thirst along with others you'll want to sit and savor when you are fortunate enough to find them.
With this in mind, here's a list of the 29 best Mexican beers, including many basic, unpretentious options as well as some more unusual gems you'll have to work harder to find.
The Best Mexican Beer Brands
Why Mexican Beer are the Best: A Comprehensive Exploration
Welcome to our in-depth exploration of the fascinating world of Mexican beer, where we will unravel the reasons behind their unparalleled excellence. As avid enthusiasts of the brewing craft, we take pride in sharing our knowledge about the finest beverages that have won the hearts of beer aficionados worldwide. In this article, we will delve into the distinctive characteristics that make Mexican beer stand out from the rest, as well as the rich history and cultural significance behind each brew.
Arguably Mexico's most famous beer, Corona is easy to find and unmistakable in its distinctive clear glass bottle. It has a light taste that doesn't have any overwhelming flavors, and it's super refreshing when served ice cold and with a wedge of lime pushed into the bottle.
It might not be such a big favorite with those looking for interesting and exciting beers that are full of complex flavors to appreciate – but if you just want a classic Mexican beer you can sip outside in the sun, Corona is an ever-reliable option.
2. Cerveza Pacífico Clara (Grupo Modelo)
A venerable Mexican beer that has been brewed for over 100 years, Pacífico is so-named due to the location of the original brewery in the city of Mazatlán on the Pacific coast. It has a light golden color and enough carbonation to make it feel lively in the mouth.
It smells like a regular pale lager with nothing overpowering the nose, but you should still be able to pick out aromas of hops along with something like grass. The taste is what you would expect from the nose – it has slightly more depth to its flavor profile than a Corona, making this a popular beer among those who find Corona too bland.
Also Read: #1 Beer in the world 2023
La Lupulosa is an American IPA-style beer stuffed full of delicious American hops from Tijuana-based craft brewers Insurgente. It is yellow-amber in color and pours with a slight haze along with a frothy head that doesn't dissipate quickly.
This is a well-balanced IPA, with a malty sweetness counteracting the bitterness from the hops. You may also be able to notice some citrus elements, and the aftertaste is pleasantly bitter.
The ABV is 7.3%, but it doesn't feature prominently in the flavor. An exceptional beer from one of Mexico's top craft breweries and one to seek out if you've had your fill of generic pale lagers.
4. Noche Buena (Cuauhtémoc Moctezuma Brewery – Heineken México)
Mexico experienced an influx of German migrants during the 19th century, and their influence is still apparent in many of the beers now brewed in the country.
One of them is the Noche Buena, a traditional German-style bock, a seasonally brewed beer of 5.9% ABV.
It has a brown color with a slight tinge of red and is topped by a thick and frothy head that tends to disappear quite quickly. The nose contains elements of malt and sweet caramel, and the taste is largely similar. There's also a touch of bitterness, especially towards the end. A tasty beer of this style that's worth a go if you see it being sold.
Also: The Rise of Craft Beer: A Revolution in the Beverage Industry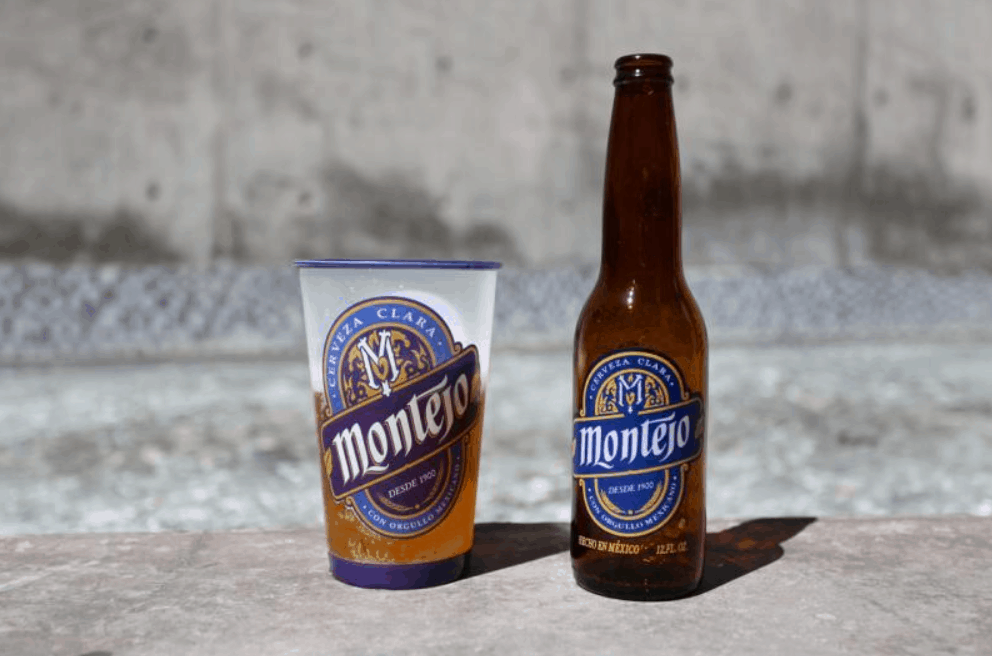 This beer is a Czech-style pilsner that comes in a stylish black can. There's plenty of carbonation, making it lively and refreshing to drink. In the glass, it has an attractive golden color and produces a light head that doesn't stay for long.
Prominent aromas in the nose include corn and malt, and these are also present in the taste. There's a sweetness to this beer, but it is nicely counterbalanced by the right note of bitterness, making it easy to drink and ideal for moments when you feel like something simple and unpretentious.
A big and bold imperial IPA with a potent alcoholic kick of 8.5%, this beer from craft brewers Texcoco Mystic Ales is one for those who like their beers to have plenty going on. The color is a rich gold, and it pours with a slight hint of cloudiness.
You'll find a complex combination of aromas in the nose, including pine, fruit and bread. On tasting, you'll find the flavor profile packed with even more fruit along with some hints of spice and yeast.
For such a strong beer, the alcohol isn't prominent in the nose or the taste, making this a brew that's extremely easy drinking – but one you should also treat with care!
7. Carta Blanca (Cuauhtémoc Moctezuma Brewery – Heineken México)
Carta Blanca is a typical Mexican lager that's inexpensive, easy to find and always hits the spot when you need something to quench your thirst. It's nothing spectacular, so you shouldn't compare this kind of beer with something from a craft brewery, but it still tastes surprisingly good for a brew of this sort.
Perhaps not a beer to put at the top of your wish list – but at the same time, it's not one to turn your nose up at when you just want something cold and refreshing.
8. Sol (Cuauhtémoc Moctezuma Brewery – Heineken México)
Another of Mexico's most famous beers, Sol is a light-colored brew with a delicate flavor that is similar in many ways to a Corona.
If you take a trip to Mexico, this is a beer you should probably try at least once – and you probably will at some point anyway – and like Corona, it's best enjoyed with a piece of lemon pushed into the bottle.
9. Indio (Cuauhtémoc Moctezuma Brewery – Heineken México)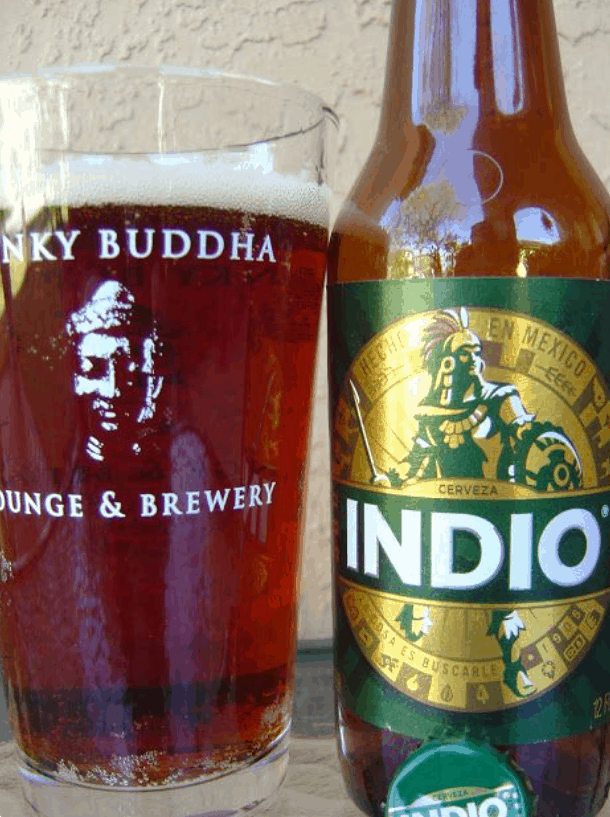 This is a Mexican take on the Vienna lager style that pours with a dark amber color and produces a head that tends to linger for a while before dissipating. It has relatively strong carbonation, making it lively and refreshing to drink. As you can guess from looking at it, the nose and taste both display a certain amount of malty sweetness, and although some people might call it slightly bland, it goes down very easily.
At only 4.1% ABV, this is not a strong beer, so it's one you don't have to feel guilty about if you feel like enjoying more than just one or two.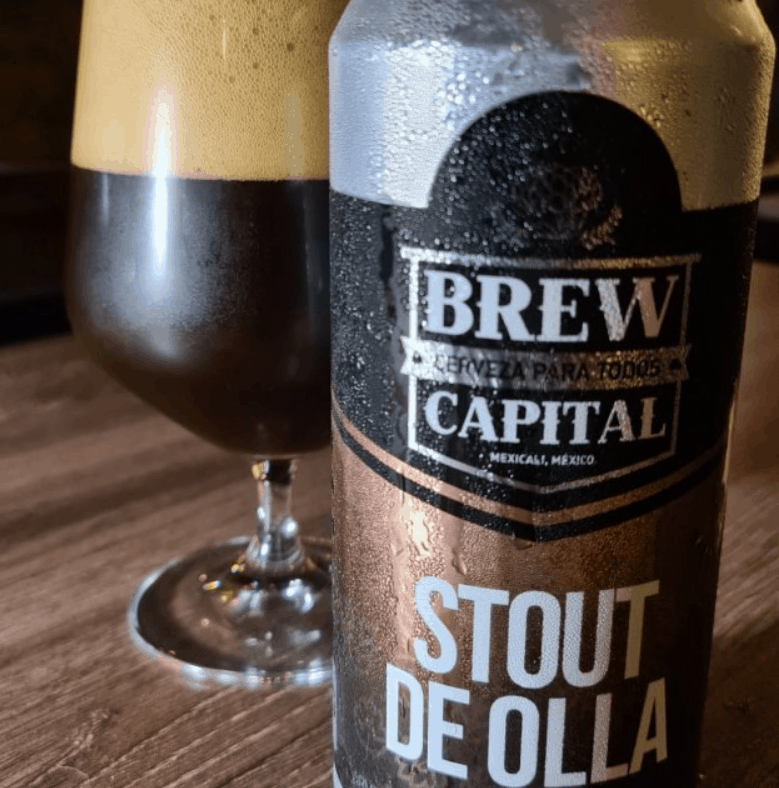 An American-style stout with an ABV of 6.8% that's brewed by the Cervecería Santa Sabina, this one is worth looking out for if you want to sample the delights of Mexico's craft brewing scene. It is a deep, dark black in color and is topped by a creamy head that rapidly fades away. The nose offers notes of coffee and chocolate with a hint of something like cinnamon and vanilla in the background, and this is very much what you can expect when you taste it too.
There is some sweetness to it at first, and this makes way for more bitterness towards the end. Overall, an admirable attempt at this style and a beer that most stout drinkers will enjoy.
A Few Rare Treasures And Plenty Of Reliably Refreshing Brews
As you can see from our list, there are a few rare treasures to discover in Mexico as well as a wide range of unpretentious but highly refreshing brews.
For this reason, any trip to the country can be a fun voyage of discovery for any travelers who enjoy sampling the local tipples while they're on the road.